STADIUM CLUB/BANQUET FACILITY- Who said that business only gets done on the golf course? Bring your clients out to enjoy a great view of the game and VIP treatment. Our Stadium Club is great for building relationships, entertaining prospects or clients, and showing your most loyal customers and employees your appreciation. Glass enclosed, climate-controlled, the Club features both indoor and outdoor seating.
Reserve the Stadium Club for an upcoming 2021 game starting at just $23 per person (68 person minimum). Includes
All-you-can-eat hot dogs, hamburgers, and grilled chicken sandwiches
Ice cold Coca-Cola drinks and water
Chips and fudgy brownies
You also have the option to upgrade the Shealy's Bar-B-Que for $26 per person. The Shealy's Package includes
BBQ Pork
Fried Chicken
Rice and hash
String beans
Corn
Cole Slaw and pickles
Rolls
Iced Tea
Banana Pudding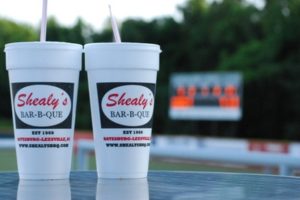 BENEFITS
Stadium Club exclusive access
Wrigley style box seats above the 1st base dugout
A Blowie Appearance
A group photo to remember the night!
All-you-can-eat buffets for 2 hours! (6-8pm)
We can even bring to the table a first pitch, videoboard logo drops, stadium PAs, we'll even roll out the red carpet for you!
This facility is on the first base concourse overlooking our green diamond jewel! Book your group and your box seats right over the dugout!
Click Here for Printable Stadium Club Form
Questions?
Contact us: 803-254-3474
Matt Jinnette – [email protected]