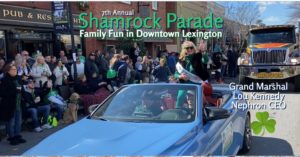 Saturday March 12 , 2022
Lexington, SC-The 7th Annual Shamrock Parade rolled down Main Street Saturday afternoon to a very enthusiastic (but bundled up) of parade watchers! It was cold but it didn't dampen the Irish spirit of those who marched and those watching!
From Irish Dancers, to Choo Choo Trains, Musical Bands, Floats, Pageant Winners to even a Mountain Dew drinking Camel as Abraham made a surprise appearance as the Redeemed Band performed on Main Street.
Irish eyes were smiling …even if it felt like we were the Christmas Parade with the frigid temperatures.
More photos and highlights to come….

__________________________
The Parade is on!
LATEST WEATHER UPDATE AT 12:30PM  SATURDAY

The Shamrock Family Fun Parade is set to launch 2pm Saturday in Downtown Lexington. The Rain ends in the early morning and the afternoon is partly sunny and early spring kind of weather!
Attention Parade Entry Teams- We will see you at the staging area 1pm at the corner of Heygood and Butler Street.
__________________________
FOR IMMEDIATE RELEASE:
Lexington County, SC –The Lexington County Blowfish are excited to announce Lexington County's own Lou Kennedy will be the 7th Annual Shamrock Parade's Grand Marshal Saturday March 12th in Downtown Lexington. A family fun event starting at 2pm.
Lou Kennedy is President, CEO and Owner of Nephron Pharmaceuticals Corporation – a certified woman-owned business. She has held a variety of marketing and operational roles at Nephron and created the Nephron national sales force.
Under Kennedy's leadership, Nephron has experienced unprecedented growth. The company employs nearly 2,000 people, produces one billion doses of life-saving medication annually and is a nationwide leader in manufacturing opioid-free pain management drugs. Read more below:
We look forward to honoring Lou on Saturday March 12th in beautiful Downtown Lexington as the 7th Annual Shamrock Family Fun Parade rolls down Main Street!