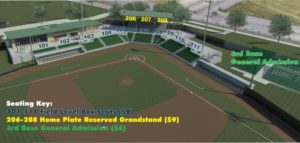 The Blowfish Baseball Club have three areas of seating at the new Lexington County Baseball Stadium. A picture of these seating areas can be found above with descriptions of each specific area, which includes Premium Box Seating, Reserved Grandstand Seating and General Admission/Bleacher Seating/Lawn Seating.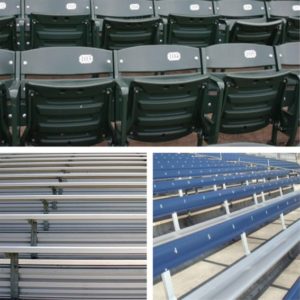 Premium Box Seating
Premium Box Seating is located below the main concourse/walkway inside the stadium "bowl". The "bowl" seating is designed to give the fan a more intimate and action-packed view of the game. These seats have a "Wrigley-Style" feel, like the picture above. The seats have backs, fold down seats and arm rests much like those at Wrigley Field. These Premium Seats are highly valued and specific seats, such as aisle seats and those along the first row, are considered more valuable. Each Premium Box Seat has an assigned ticket for every game guaranteeing fans a place to enjoy America's past time.
Reserved Grandstand Seating
Reserved Grandstand Seating is located behind Premium Box Seating and in front of the press box. Like Premium Box Seating, each seat has a specific ticket assigned for every game. These seats are not located within the "bowl" atmosphere but still have a fantastic view behind home plate.
General Admission/Bleacher Seating/Lawn Seating
General Admission Seating encompasses any bleacher seating, lawn seating and standing room only. There are no assigned seats in General Admission. Tickets for this area are limited and sold on a first come first serve basis. These areas are mainly located along the first base line and third base line on either side of each dugout.
Accessible Seating
Lexington County Baseball Stadium has been designed to provide easy access for guests with disabilities. Our stadium recognizes the needs of persons with disabilities-  Accessible Seating locations are section 103, 105, 109 and 111 right on the stadium concourse.
LCBS has three styles of seating. (From Top to Lower Right To Lower Left) Premium Box, Grandstand Reserved & Bleacher Seating