CLICK HERE FOR WLTX TV NEWS STORY ON MEMORIAL DAY TRIBUTE

The names of the soldiers are displayed on thirteen of the player jerseys
Blowfish Honor 13 Fallen Service Members Memorial Day Weekend 2022
Lexington County S.C.- It.s Memorial Day weekend and the Lexington County Blowfish are reminding everyone why the holiday is observed. The Blowfish, on Friday May 27, remembered the selflessness of all the brave men and women that made the ultimate sacrifice to protect our country, including the 13 U.S. service members who died at the airport in Kabul, Afghanistan in August of 2021.
During their game on Friday versus the Forest City Owls, the Blowfish featured 13 players wearing special jerseys that feature the names of the 13 service members that were lost in Afghanistan. The Blowfish actually scored 13 runs to defeat the Owls 13=4. The special jerseys will be worn annually during during future Memorial Day Weekend Blowfish games as well..

Memorial Day is always an important and solemn time of year," said Bill Shanahan, co-owner of the Blowfish. "Not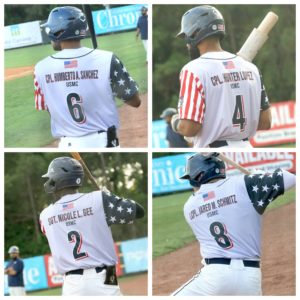 only do we want to remember all that have sacrificed their lives for our country, but this year, we wanted to bring special attention to the 13 brave men and woman that died protecting others after a suicide bomb attack in Afghanistan last August. These service members, across three different military branches and from all over our great country, were strangers before their military service but died together as heroes. The Lexington County Blowfish are humbled to wear these heroes on our back to celebrate their lives and remember the sacrifice made.
Eleven members of the United States Marine Corps, one member of the U.S. Army, and one U.S. Navy member were conducting security checks during Operation Allies Refuge at the Abbey Gate of Hamid Karzai International Airport in Kabul, Afghanistan on August 26, 2021, when a suicide bomber unleashed a 25-pound explosive vest killing at least 182 people and wounding 200 others.
A list of the fallen U.S. Service members are:
SGT. Johanny Rosario Picardo-USMC-Lawrenceville, MA
SGT. Nicole L. Gee-USMC-Sacramento, CA
SSGT. Darin T. Hoover-USMC-Salt Lake City
CPL. Hunter Lopez-USMC-Indio, CA
CPL. Daegan W. Page-USMC-Omaha, NE.                                                                              .
CPL. Humberto A. Sanchez -USMC -Logansport,IN
LCPL. David L. Espinoza -USMC-Rio Bravo, TX
LCPL. Jared M. Schmitz-USMC-St. Charles, MO
LCPL. Rylee J. McCollum-USMC-Jackson, WY
LCPL. Dylan R. Merola -USMC-Rancho Cucamonga, CA
PO3 Maxton W. Soviak  U.S. Navy-Berlin Heights, OH
SSGT. Ryan C. Knauss-U.S. Army-Corryton, TN
"Without the service (and sacrifice) of all the brave men and women of the U.S. Armed Forces, we wouldn't be able to do what we do," said Coastal Plain League Commissioner Justin Sellers. "We choose to honor and pay respect to our military – past and present – every game. These 13 heroes deserve to be remembered and this act by the Blowfish is a special way to ensure that they are."
It is important to note that while we remember, this time of year can be painful to the friends and family of those left behind. For Lexington County resident Diane Rawl, a Gold Star Mother of 1st LT Ryan Rawl, who was killed in combat in Afghanistan in 2012, it is important to ensure the families of the fallen know that their loved one's sacrifice will always be remembered.
"Honoring these 13 heroes is a way to let people know that the good people of Lexington County have not forgotten the importance of sacrifice," said Rawl.
Each year moving forward, the Blowfish plan to wear the names of these fallen service members as part of their uniform to honor their memory and all those we have lost.