The Coastal Plain League announced today that the Lexington County Blowfish have been named the 2022 CPL Organization of the Year.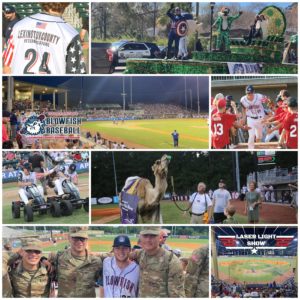 "The Blowfish featured one of their best seasons in 2022," said Justin Sellers, COO/Commissioner of the Coastal Plain League. "They have cemented themselves as a staple in Lexington County and the surrounding areas. This is a well-deserved honor and speaks to the hard work and passion put into every day by Bill and Vicki [Shanahan], Matt [Jinnette] and their entire staff. We congratulate them on this achievement and look forward to what they have in store in the future!"
Lexington County was chosen after collecting input on every facet of an organization from team owners, general managers, umpires, players and league officials. A few, but not all, factors under consideration for voters were an organization's overall game-day operations and atmosphere, hospitality, community involvement and fan engagement.
Completing their eighth season in Lexington County and 17th overall in the Coastal Plain League the Blowfish focused on a simple theme: Consistent Commitment to our Community. The Blowfish's commitment to Lexington County begins much earlier each year than just the summer collegiate baseball season. With participation in key events such as the annual Lexington County Chili Cookoff in February at the outdoor Icehouse Amphitheater, which featured another sellout crowd in its eighth year and proceeds benefitting a number of local charities. The team is then heavily involved in the annual Shamrock Parade marching down Main Street in Downtown Lexington, a staple for now seven consecutive years. The Blowfish also hold a series of monthly community luncheons at the stadium promoting Lexington County and featuring "Hot Stove" conversations on the season to come.
In 2022, the team tried something new by adding a first-of-its-kind nightly "Laser Light Show" to the already high-energy atmosphere at Lexington County Baseball Stadium. This was a welcomed addition by their fans, and they also had firework shows on key nights.
On the field, the players and coaches fielded another competitive club, which went 9-1 over its last 10 games and fell just short of making the CPL Playoffs. The club also featured a record number of host families participating in 2022, as well as exceptional postgame meals for both home and visiting teams.
Sticking to what has become a tradition, the Blowfish announced their uniform theme to be one that promoted the towns and cities of Lexington County with their names showcased on the back of the player jerseys. After the season, the jerseys were auctioned off and the team raised $8,000 that went into each town's designated charity. The 2022 season concentrated on the Lexington County public services (aka Police and Fire Departments, Lexington County 911 services along with the LC Sheriff's Dept, Library and Museum) for a total of 38 different support services in Lexington County. Lexington County also saw the return of Fort Jackson Appreciation Night with nearly 1,000 Basic Training Soldiers invited for a night out at the ballpark.
"This is a great honor to be voted the 2022 Coastal Plain League Organization of the Year," said Blowfish Co-Owner Bill Shanahan. "My wife, Vicki, and I would like to thank our Assistant General Manager Matt Jinnette along with our loyal, experienced and enthusiastic game day team, who continue to serve our community, partners and fans year in and year out. Grateful to the Coastal Plain League owners, executives & League Office for recognizing the special bond between the Blowfish and its home of Lexington County, S.C. We are most thankful for "Team Blowfish", which includes all our host families, players, assistant coaches and Head Coach Jonathan Johnson. We look forward to continuing to provide affordable family entertainment and positively impacting Lexington County for years to come."
Overall, this is the third time the Blowfish have earned this recognition. They first received the honor after their inaugural season in 2006 while in Columbia, and then again in 2015, their first season in Lexington County.