Blowfish Baseball's schedule for the 2022 Coastal Plain League season has been released. The Blowfish open at home against the Macon Bacon on Thursday May 26th at Lexington County Baseball Stadium and it's our first All-You-Can-Eat night! Unlimited Food & Drinks for just $15 per game!
Opening Night-Thirsty Thursday
Thursday May 26th vs Macon Bacon
Disney Themed Fireworks
Friday June 10th vs Spartanburg
Star Wars Themed Fireworks
Saturday June 25th vs HP Thomasville HiToms
Independence Fireworks
Sunday July 3rd vs Macon Bacon
Fan Appreciation Night
Saturday July 30th vs Forest City Owls
Our single-game tickets are $9 each, but you can't get unlimited food and drinks with a single-game ticket. You can only get the all-you-can-eat wristband with a ticket plan, which starts with our 5-game option.
WANT MORE INFORMATION ABOUT OUR AYCE PLANS CLICK HERE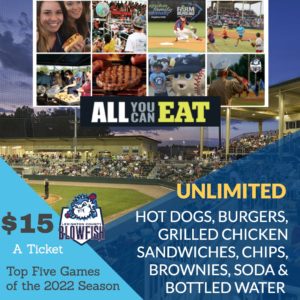 As a plan holder, you will have access to our ticket exchange program. If you are unable to attend one of the games listed above, you can exchange your tickets for any other home game on our schedule (as long as the game is not sold out).
The Blowfish will play seven of the fifteen teams in the Coastal Plain League including the Forest City Owls, Florence Flamingos, Savannah Bananas, Spartanburg Spartanburgers, Macon Bacon, High Point Thomasville, and the Wilmington Sharks. In addition, the Catawba Valley Stars will return to "The Lex' for three games in 2022. The CPL Playoffs will run July 31st – August 6th. The Blowfish enter their 8th season in Lexington County and 17th season overall.
CLICK BELOW FOR PRINTABLE SCHEDULE