Wednesday Oct 11th- And the winner is….for the second consecutive year-Lexington County Sheriff Jay Koon! Sheriff Koon captured the coveted Golden Peanut Award Trophy Wednesday afternoon on opening day of the SC State Fair! Coming in a close second was ABC Columbia's Tyler Ryan. A great crowd was on hand and co-emcees Joe Pinner and Dawndy Mercer Plank performed masterfully! Plus celebrity judges Richland County Sheriff Leon Lott and SC State Fair General Manager Nancy Smith made sure this was a clean contest (to the best of their ability)! Fun times at the Fair! A Big Thank you to Rawl Farms for providing the delicious fresh peanuts grown right here in South Carolina along with Colucci Custom Awards for the one of a kind trophy they created for this year's event!
Read Lexington County Chronicle Story Here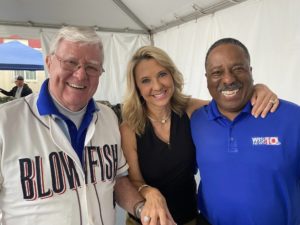 Co-Emcees Joe Pinner and Dawndy Mercer Plank with Rick Henry 
Watch WIS TV Rick Henry compete in the 4th Annual
_____________________________________________________________________
It's the 4th Annual South Carolina State Fair Celebrity Boiled Peanut Eating Contest on Opening Day of the Fair Wednesday Oct 11th at 5;30pm on the Academic Ave Stage! Mr. Knozit- @joePinner1 will co-emcee this classic event with Dawndy Mercer Plank along with Richland County Sheriff's Department Leon Lott as our Celebrity Judge! (Sheriff Lott won the coveted "Golden Peanut Award" in 2021). The defending champion is Lexington County Sheriff Jay Koon who won it in 2022. 975 WCOS Jonathon Rush won the inaugural competition in 2019 and will be looking to recapture the Golden Peanut! WIS TV Rick Henry,  ABC Columbia Tyler Ryan & WLTX Chandler Mac are looking to finally break thru in 2024. Excited to announce that WACH FOX Brian McConchie has accepted an invitation along with HIS Radio 92.1 Joe Polek plus the The Lexington County Chronicle Elijah Campbell has entered the arena as well! Always lots of fun and the annual contest, as always, is presented by your Lexington County Blowfish Baseball! Come join us and root on your favorite local celebrity!
Did you know that Boiled Peanuts are South Carolina's official state snack food?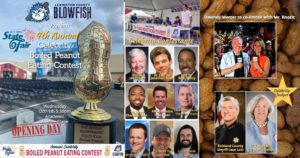 ___________________________________________
2022 Contest