Blowfish alumnus (2016) LHP JP Sears made his debut Wednesday April 13th for the New York Yankees. He entered in relief and pitched a hitless ninth inning for New York in their 6-4 lost to Toronto. He faced three batters and struck out one to leave with a perfect 0.00 ERA.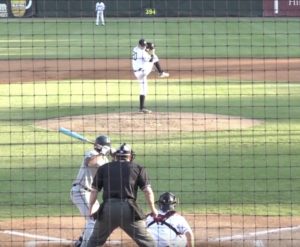 Sears played in the CPL in 2016, with the Lexington County Blowfish. Starting three games that summer, he finished with unblemished with a 2-0 record and 2.37 ERA. He pitched 19 innings, giving up just five runs on 13 hits, walked three and struck out 18. The lefty hailed from TheCitadel and went on to be drafted in 2017 by the Seattle Mariners in the 11th round. In four minor league seasons, Sears posted a 16-13 record with a respectable 3.07 ERA through 66 games, 34 of them starts. He struck out 286 batters in 234 and a third innings of work and earned five saves.
Sears debut marks the 153rd Coastal Plain League player all-time to make it to the Major Leagues. Over the last five years, the CPL has put an average of 11 players in the Bigs each season.
JP is the 9th Blowfish player to make it to the Major Leagues.
Blowfish in the Majors
Michael Kohn LAA – Columbia '06 / 7.26.10 debut
Ryan Garton – Tampa / 2010 Columbia / 5.26.16 debut
Tyler Webb – NYY / 2010 Columbia / 6.24.17 debut
C.D. Pelham – Texas / 2014 Columbia / 9.5.18 debut
Taylor Widener – Arizona / 2015 LC / 7.25.20 debut
Will Crowe – Washington / 2016 LC / 8.22.20 debut
Chas McCormick – Houston / 2016 LC / 4.1.21 debut
Charlie Barnes – Minnesota / 2015 LC / 7.17.21 debut
JP Sears – NYY / 2016 LC / 4.13.22 debut