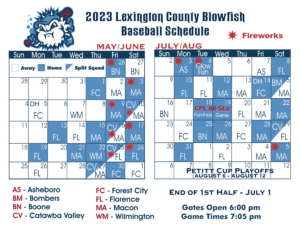 LEXINGTON COUNTY, S.C. – The Lexington County Blowfish announced they have added 5 more fireworks shows for their 2023 schedule for a total of 11 for this coming season! 
The Blowfish will play 31 games at home, including 24 against CPL opponents.
Lexington County will open the 2023 campaign against the CPL's newest addition to the league, the Boone Bigfoots on Friday, May 26.
The Blowfish also will host the 2023 CPL All-Star Show July 18-19 at Lexington County Baseball Stadium.
Another highlight on the 2023 schedule is the annual July 4th Fish Fry between the Blowfish and Glowfish.
Lexington County's 2023 slate includes a total of 54 games with the regular season wrapping up on Saturday, August 5 against the Macon Bacon. In addition to the Bacon and the Bigfoots, the Blowfish will host games against the Asheboro ZooKeepers, Bomb Island Bombers, Catawba Valley Stars, Florence Flamingos, Forest City Owls and Wilmington Sharks.
Click here to view the full 2023 game by game schedule.
For information about tickets, click here or call the team office at (803) 254-3474.