Albert 'Al' Jeffcoat
By Thomas Grant Jr.

Lexington County, SC– A 90-year-old Batesburg-Leesville man who played in the Negro League was honored Saturday night at the Lexington County Baseball Stadium.
The Lexington County Blowfish closed out the 2022 season against the Forest City Owls and Albert 'Al' Jeffcoat made an appearance. The 90-year-old has quietly lived the past 50 years in his hometown of Leesville. In high school, Jeffcoat played baseball at Hampton High School in Leesville and Twin City High School in Batesburg from 1947-50. He also played on the local Leesville Cubs' independent team during much of that span.
In 1952, Jeffcoat joined the Indianapolis Clowns of the Negro American League and played for five years during regular seasons and barnstorming until 1956.
During his career with the Clowns, they won League Championships in both 1952 and 1954. Jeffcoat had one home run during his career. It was of the 'inside the park' variety and came against the Chicago American Giants on Chicago's famed Wrigley Field.
Jeffcoat went on to barnstorm with the independent New York Black Yankees in cities and small towns all over America from 1952-56. He was inducted into the Batesburg-Leesville Athletics Hall of Fame in 2019.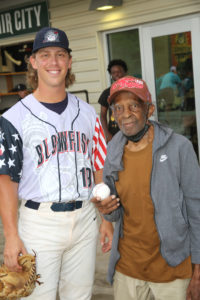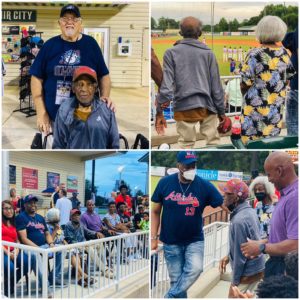 ___________________________________________________________________________
Saturday also marked the conclusion of the team's online auction of the special jerseys worn this season.
Back in March, the team announced the Blowfish would honor the support services in Lexington County with specially designed patriotic-themed jerseys. In a press release, Blowfish Co-Owner Bill Shanahan said many of the players are homegrown.
"Many of our players have grown up right here in Lexington County and attended local high schools like Lexington High, River Bluff, Gilbert, Dutch Fork, Irmo, Pelion, Chapin, Airport, and others. These are truly homegrown players. What a great opportunity to honor those men and women who protect and serve with their names on the backs on this year's player jerseys."
Each player wore the name of the following city, county, or town first response department, county support service or school district to help raise funds.
Lexington County Fire Service, Lexington County Public Library, Lexington County School Districts 1, 2, 3 and 4, Lexington-Richland School District 5, Lexington County Veterans Affairs, Lexington County Museum, Lexington County Sheriff's Department, Lexington County Council, Lexington County Coroner, Lexington County Public Works, Lexington County 911, Lexington County EMS, Gilbert LC Fire, EMS/911/LCSD, Batesburg-Leesville Fire Department, Lexington County Animal Services, Irmo Fire Department, Swansea Police Department, Gaston Police Department, Lexington Police Department, Cayce Fire Department, West Columbia Fire Department, South Congaree Police Department, Summit LC-Fire/EMS/911/LCSD, Pine Ridge Police Department, Oak Grove LC-Fire/EMS/911/LCSD, Red Bank LC-Fire/EMS/911/LCSD, West Columbia Police Department, Irmo Fire Department, Pelion Police Department, Cayce Police Department, Springdale Police Department, Lexington County Recreation & Aging Commission.
The net proceeds from each one will be donated to that specific support organization. Visit blowfishbaseball.com for additional information.