Read Lexington County Chronicle Story Here
FOR IMMEDIATE RELEASE:
MARCH 1, 2023
Lexington County SC- Blowfish Baseball today announced The Grand Marshal for the 8th Annual Shamrock Parade in the Town of Lexington is "Our American Soldier" and will be represented by Fort Jackson's 369th Adjutant General Battalion, Soldier Support Institute. Marching with them will be the Drill Sergeants of the Cycle from 4th Battalion 39th Infantry.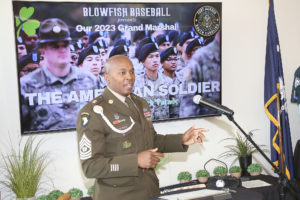 CSM Philson Tavernier Post Command Sergeant Major in attendance for the medial luncheon and shared Fort Jackson's commitment to the community
The 8th Annual Shamrock Parade is Saturday March 11th in the Town of Lexington. The parade takes place on Main Street and will include over 50 entries of floats, musical bands, pageant winners including Miss Ireland, mascots and more. Leading off the parade will be the Ancient Order of Hibernians who will be walking with the many flags of Ireland followed by the 200 Fort Jackson soldiers marching down Main as our "2023 Grand Marshal and the Connick School of Irish Dancers dancing their way down Main Street.
Mr. Shamrock - In addition, the Blowfish organization will be recognizing local TV legend Joe Pinner (aka mr. knozit) as our lifetime community achievement award winner and will be proclaimed "Mr Shamrock" and will ride on the Blowfish Float.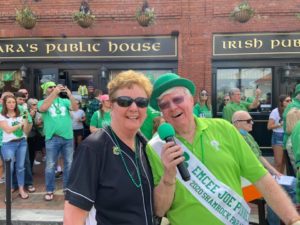 Shamrock Festival Kids Zone Under the Pavilion at the Amphitheater presented by O'Hara's Public House and Bakery. 12 noon – 2 pm and 3-5 pm, Enjoy 2 hours of big fun for the Kids on either side of the parade! A free Shamrock Cookie for any child 12 or under who participates in our Leprechaun Costume Contest. Winner gets a "Pot of Gold" wrapped chocolates! Bounce House, Rock Climbing Wall, Face Painting, Balloon Animals and more – all free to kids.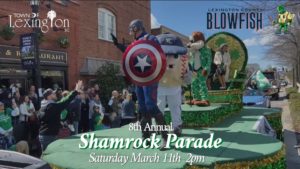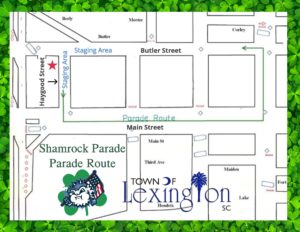 The 8th Annual Shamrock Parade, a free family fun annual event is presented by the Lexington County Blowfish Baseball Club and the Town of Lexington. For more information contact Bill Shanahan at [email protected]
###