Five Top Games of 2022: This 5-game All-You-Can-Eat Package includes five of the best home games on the schedule-
Opening Night-Thirsty Thursday
Thursday, May 26 vs Macon Bacon
Disney Themed Fireworks/Princess Night
Friday, June 10 vs Spartanburgers
Star Wars Theme Night
Saturday, June 25 vs High Point-Thomasville HiToms
Independence Fireworks
Sunday, July 3 vs Macon Bacon
Fan Appreciation Night/Fireworks
Saturday. July 30 vs Forest City Owls
All-You-Can-Eat: At every game you attend with your 5-game pack tickets, you'll get all the all-beef hot dogs, hamburgers, cheeseburgers, chips, brownies, ice cold soda and bottled water you want during the game.
Theme Nights and Fireworks: These top 5 games of 2022 include our best theme nights and our Concert in the Sky Firework Shows.
Choice Seating: The best seat locations go to our full-season ticket buyers. The second best seat locations are saved for our 5-game package holders. Take your pick of either a reserved box seat or a spot in our reserved grandstand.
Highly Affordable and Limited: Our concessions grilling limits and our desire to have short lines allows us to sell no more than 500 of these ticket packages per game. This all-inclusive plan is not available for the single-game ticket buyer. At just $15 per game, our 5-game ticket plans are $75 per seat.
Easy Payment Options: We make it easy for you to pay for your Lexington County Blowfish tickets. You have the choice to spread your payments out throughout the remaining months until the season via credit card. Our staff can help find what works best for you.
With our single-game tickets, you can't get unlimited food and drinks. You can only get the all-you-can-eat wristband with a ticket plan, which starts with our 5-game option.
With this 5-game ticket plan, you get a manageable number of games. One game every two weeks is just about right for many fans. Order your 5-game plan now and come to Lexington County Baseball Stadium hungry this season!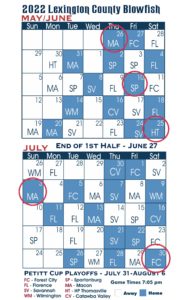 For assistance, call our office at 803-254-3474
If you are interested in learning more about our all-you-can-eat ticket plans, please fill out the form below.