This is the

best ticket deal in sports

.

This is it.
This is our most popular ticket package.
It's our All-You-Can-Eat 5-Game Plan.
Every game you attend on this plan, you get dinner on us.
You'll be provided with unlimited food and drinks each game until we sing 'Take Me Out to the Ballgame' during the seventh-inning stretch.
Our all-you-can-eat menu includes unlimited all-beef hot dogs, hamburgers, cheeseburgers, veggie burgers, grilled chicken sandwiches, chips and chocolate brownies.
You can wash all that down with unlimited ice cold Coca-Cola products and bottled water.
Our All-You-Can-Eat 5-Game Plan isn't a bunch of random games either.
It's our five BEST games of the entire season.
These games include four HUGE fireworks shows and exciting theme nights like Opening Night, Star Wars Night and Superhero Night.
This is the ticket package that sold out last year.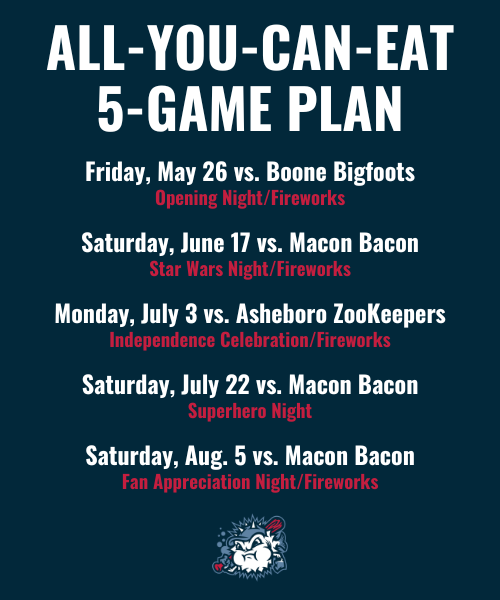 An All-Inclusive Ticket Plan
We wanted our fan experience to be different than any other sporting event you've ever attended.
That's why we spent years designing it. We did a ton of research. We asked Blowfish fans many, many questions. We kept digging until we had the answers we needed.
In the end, fans like you inspired the All-You-Can-Eat 5-Game Plan.
It's a truly all-inclusive plan from the moment you step inside the gates of Lexington County Baseball Stadium.
In addition to your ticket to our five best games of the season, you get all the food and drinks you can handle. Plus, you'll have great seats for the game, the wacky entertainment and all the fireworks.
Under our Ballpark Village tent, you will be treated to a feast of unlimited food and drinks at our top five games of the season.
The All-You-Can-Eat menu features all-beef hot dogs (you can add chili too), hamburgers, cheeseburgers, veggie burgers, grilled chicken sandwiches, chips and chocolate brownies.
Before you leave the food area, make sure to top your hot dogs and burgers with all the great toppings, like lettuce, cheese, chili and onions.
On your way out of the tent pick up an ice-cold Coca-Cola product or a bottled water to quench your thirst.
When you're ready, all the food and drinks will be available for you to fill your plate up again. We keep Ballpark Village open until we sing 'Take Me Out to the Ballgame' in the middle of the seventh inning.
You are welcome to make as many trips as you'd like throughout the night.
Why are we talking about the chocolate brownies again?
Because they melt in your mouth and have been described by our fans as "delicious," "unbelievable," and "the best dessert I've ever had!"
Our chocolate brownies are rich and loaded with chocolate chips so it provides with the perfect amount of chocolate in every bite.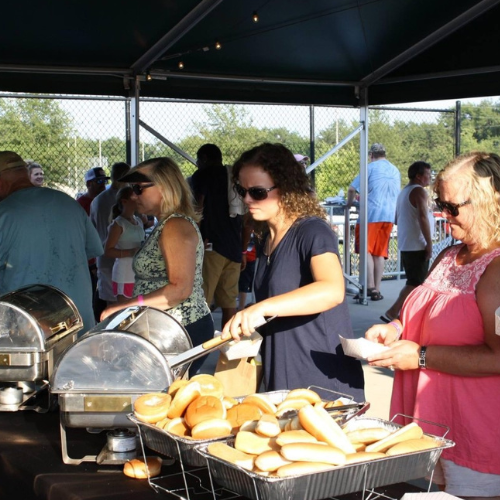 While you are enjoying the unlimited food and drinks, we will be entertaining you all game long.
Our entertainment crew puts together funny skits, on-field games and promotions that will make you laugh, cheer, and maybe even groan a time or two.
The important thing to know is that you're going to have fun.
We create skits and promotions planned around our big theme nights, like Star Wars Night and Superhero Night.
We're also hosting the Boone Bigfoots on Opening Night so be sure to bring your blurry cameras and get your voice warmed up for a Sasquatch calling contest.
Yes, we have great baseball taking place on the field but we want to entertain you with more than just home runs and great defensive plays.
With our All-You-Can-Eat 5-Game Plan, you will have great seats for four HUGE postgame fireworks shows.
These aren't a few pops and ahhhhs. It's several exciting minutes of one of the most elaborate fireworks shows in the state of South Carolina.
We do it right.
We light up the sky over the stadium to provide you with the perfect ending to your night at the ballpark.
When you leave the ballpark, we want you to remember the night and have the feeling that you can't wait to come back.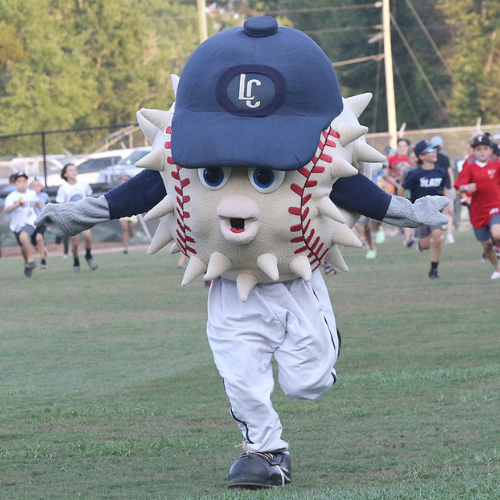 We understand that you are busy during the summer. We heard from Blowfish fans that they want to make a 5-Game Plan that fits their schedule.
Not a problem.
This is why you'll have access to our Ticket Exchange Program.
Even though we set up our All-You-Can-Eat 5-Game Plan with the five best games of the season, you have the flexibility to choose the home games that fit your family's schedule.
If you can't make it to a game on the plan, simply call us (before or after the game) and we will exchange your tickets to another home game you can attend, based on availability.
No ticket will be wasted with our Ticket Exchange Program and you won't waste any money because your schedule doesn't match up with ours.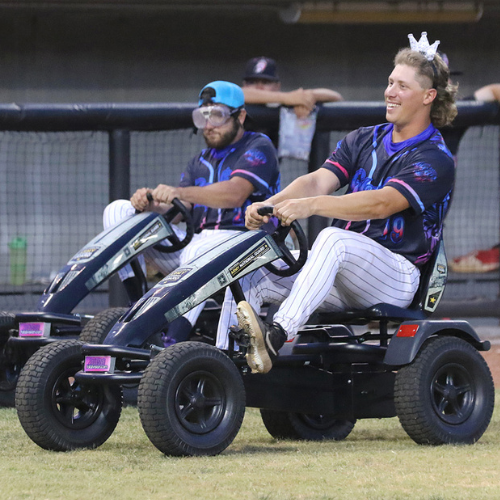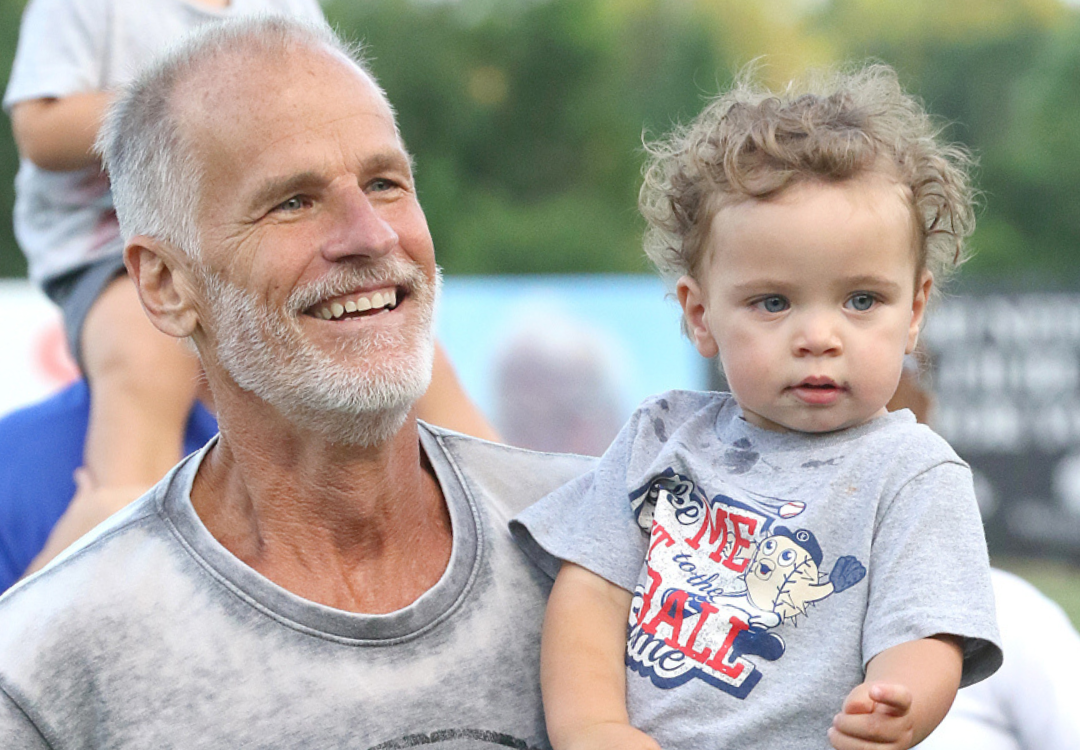 Is there a better way to experience a sporting event?
We don't think so!
Fans should have the ability to not worry about how much it's going to cost to watch a game. We show the cost up front. Once you buy your All-You-Can-Eat ticket package, you're set for the summer.
Your ticket gives you access to the game and your wristband provides you the ability to get all the food and drinks you want the rest of the night.
The all-you-can-eat options are not available to single-game ticket buyers.
It's ONLY available to those who purchase one of our All-You-Can-Eat Ticket Packages, like our fan-favorite 5-Game Plan.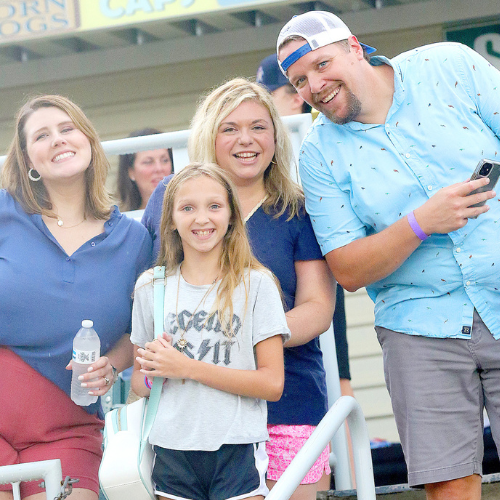 What fans are saying about us...
"Blowfish baseball games are a great place to bring the family for a night out."
– Gary H. on Google

"Great atmosphere, great food and always entertaining!"
– Elizabeth T. on Google

"We loved this. Very clean, great deal on the all-you-can-eat and everyone had such great energy."
– Bobbie M. on Google

"The staff is very friendly and makes you feel as though you are at home!"
– Chelsea S. on Tripadvisor
Why is this plan so popular?
Because of the value.
You get tickets to our five best games of the season, paired up with our most exciting theme nights and four huge fireworks shows, unlimited food and drinks, great seats and the flexibility to make the package fit your schedule.
It's all available for only $15.99 per game ($79.95 per seat).
With this 5-game ticket plan, you get a manageable number of games.

It works out to one game every 2-3 weeks, which is just about right for most fans.

Order now and come hungry, because we are ready for you this season.
Interested in learning more? Fill out the following form and one of our ticket representatives will reach out to give you the full details on our all-you-can-eat ticket plans.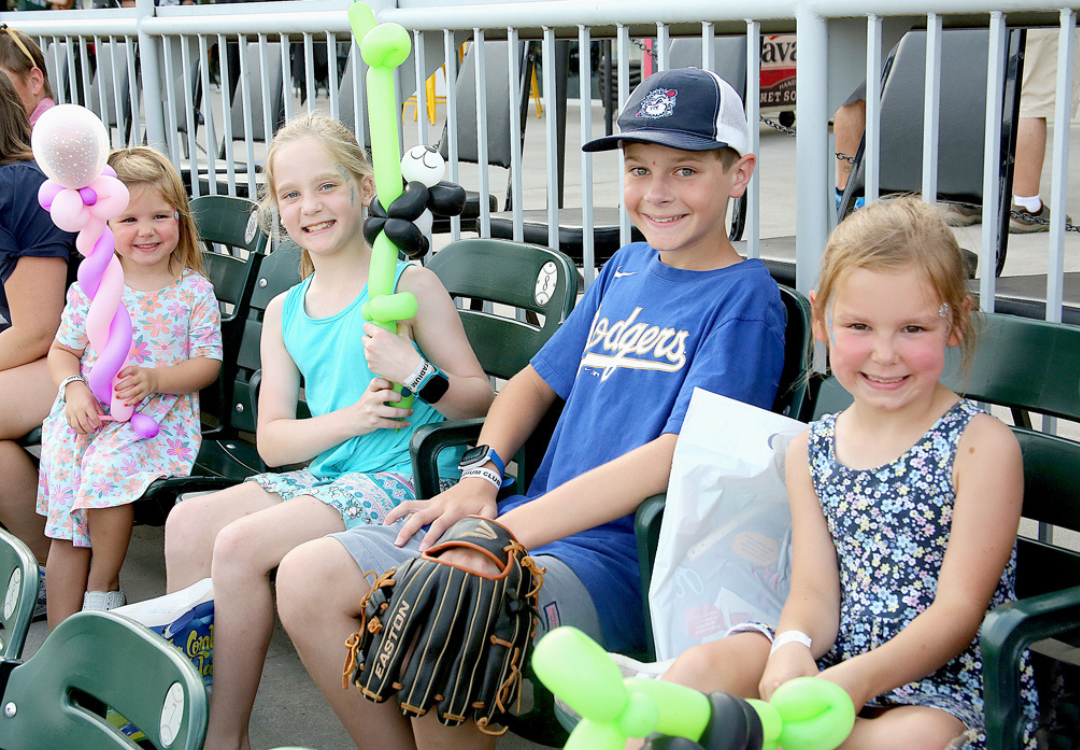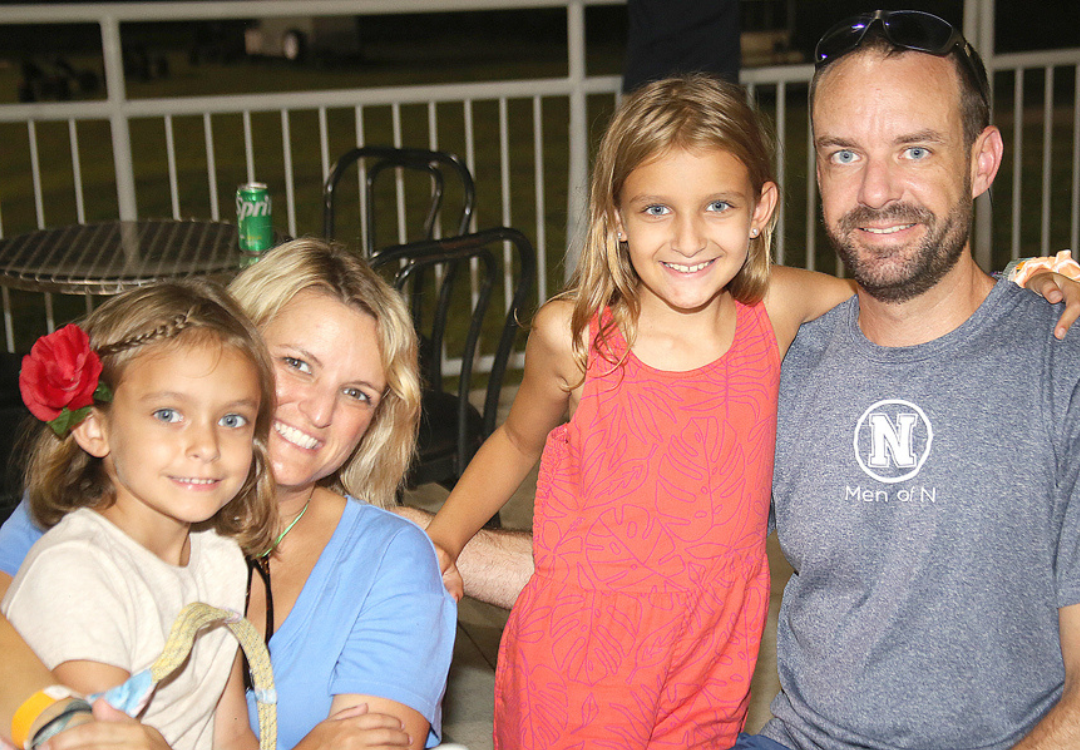 Want to learn more about our other ticket plans?
At our games,

it's all about the fans

.
Do you have questions?
Maybe we can answer some below.
The All-You-Can-Eat 5-Game Plan is $15.99 per person. The total cost is $79.95 per seat over the five games.