Looking for ways to entertain clients and reward employees? Looking for great family entertainment? Then a Blowfish Season Membership is perfect for you! Every giveaway, promotion, fireworks show, every inning of Blowfish Baseball is available to you!
As a Full Season Member you become a VIP with all the benefits.
Blowfish Full Season Ticket Holders Receive:
Location – You can choose where your seats are for the entire season.
Advance Tickets – You will receive tickets for every game, prior to the season. These special-print tickets are designed for Season Ticket Holders only, and allow you to avoid stopping at the Box Office.
Right of Refusal – You make the decision whether or not you want your seat(s) for other Blowfish events, such as exhibition games. Plus, Reserved Parking is available for just $3 per game when you purchase a VIP Parking Pass.
Party With the Blowfish – You are invited to join the Blowfish players at our annual Season Membership Party!
Stay Informed – You will receive our e-mail newsletter prior to each games with updated promotion information.
Pre Season Exhibition Game – As a Blowfish season ticket holder you receive complimentary tickets to the annual Blowfish Alumni vs Blowfish Exhibition game!
Playoffs – As a season member the Blowfish want to say thank you for your great support of the team all season long! As a thank you- Season Membership Holder receive all play off games complimentary!
BACK In 2022
All You Can Eat Package Add On- Get all the above benefits as full season ticket holders as well as all you can eat for our 10 biggest games. All you can eat hot dogs, hamburgers, chicken sandwiches, chips, Coca Cola products, bottled water, and dessert until the top of the seventh inning.
Returning Season Members: Renew your Season Membership today and take advantage of our renewal incentives! Contact Matthew Jinnette to renew your Season Membership.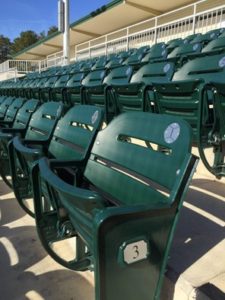 Full Season – 28 Games 
(Wrigley Field Style Box Seats) $250
Full Season with: 
5 Game All You Can Eat: $280
 10 Game All You Can Eat: $310
One Half Season – 14 Games
(Wrigley Field Style Box Seats)
$126
————————————————————————————
General Admission
Full Season – 28 Games
(Third Base Grandstand)
$168
To purchase your 2021 Season Membership contact:
Matthew Jinnette- [email protected] 
Call 803-254-FISH (3474)